Summary | Area Map | Distance and Difficulty | Race Description
Photo Gallery of Event
This is a scenic downhill course running through Snow Canyon State Park that ends at Snow Canyon High School just north of St. George, Utah.
The official Web site for the race (Snow Canyon Half Marathon ) describes the event in detail and directions on how to get to the area. (The general vicinity of the starting area is shown below.), and you can find the course map HERE.
View Larger Map
You can't get much easier for a half marathon. Except for a few small hills near the end, it is a pleasure to run.
What makes this race unique are the many interesting geological features that you pass along the way in and around Snow Canyon State Park. The race starts at the Red Mountain Trail along Highway 18 about 4 miles north of the park. As you make your away along this stretch heading south, you pass Diamond Cinder Cone on your left, which last erupted about 27,000 years ago. If you pass through the area, it is a worthwhile, but moderately-strenuous, short hike to the top.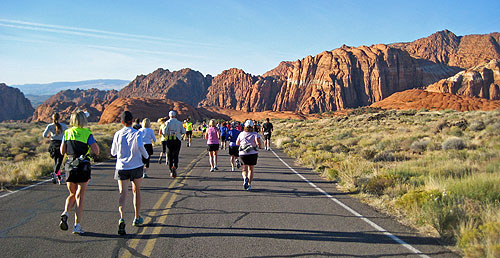 Running through Snow Canyon State Park
The course then turns right and goes right through the park for about five miles. Here you see a mix of sandstone cliffs and old lava flows all about the landscape, and a diversity of life can be seen including desert willow trees, scrub oak, cacti, quail, Gila monsters, and desert tortoise, to name a few.
After leaving the south end of the part, the race winds around Ivins through neighborhoods for the last few miles.
I generally don't road races, preferring to do longer trail events, but for a good share of the race, it doesn't feel like any ordinary street event. The beauty of the area simply catches you off guard.
Photo Gallery of Event