> Home
> About This Site
Trailhead and Map | Distance and Difficulty
Running/Hiking Time | Race/Trail Description
[ Photo Gallery ]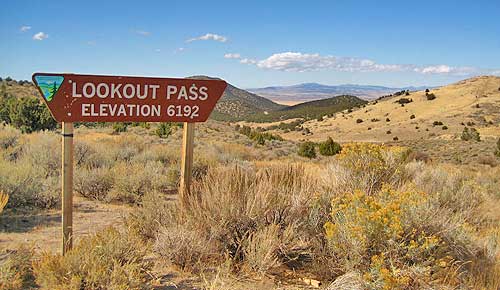 The start of the race at Lookout Pass
In the United States before the time of the transcontinental telegraph and the transcontinental train, a method for delivering the mail quickly across the country was devised by horseback from April 1860 to October. The Pony Express Trail Endurance Race follows part of route for a hundred miles in Utah. The official Web site for the race (Pony Express Trail 100 Endurance Run) gives a very informative description on the trail, with interesting historical details of the area, so my narrative does not try to repeat this account. However, the starting point is located at Lookout Pass at N 40.06.893, W 112.33.951. (Source of Map: http://en.wikipedia.org/wiki/File:Ponymap.jpg).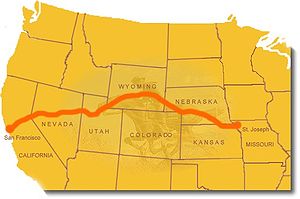 To get there from I-15, take the Lehi Main Street Exit and head west on Main Street. This section becomes very congested during peak hours.
Follow Main Street out of town and pass through Saratoga Springs following Highway 73. You will cross Redwood Road. Continue straight on Highway 73 for another 20 miles: the road will bend south through the small town of Cedar Fort, then through Fairfield, turning west to Five-mile Pass. You will see a sign directing you to the Pony Express Route and the small community of Faust. At one point, the road forks; take the left fork another 13 miles to a T-intersection of Faust and Route 36. Turn left and head south on Rt. 36. After about a half mile mile, turn right on the Lookout Pass Road, heading west. It appears to have been paved at one time, but it's more of a gravel road now. It is also marked as the Old Pony Express Route. Go about 9 miles west up to Lookout Pass.
Here is a Google Map to the starting point at Lookout Pass.
So, how far do you want to go? From Lookout Pass, the course takes you 50 miles on the Pony Express Trail just beyond Black Rock Pass. If you are doing the full, 100-mile run, then this is your turnaround point. Any trail run of this distance is hard. Heading out, you lose more elevation that you gain so, the return trip should prove to be more taxing. The current record for running the 100 mile race is under 24 hours. Of course, traveling by motorized vehicle will take you significantly less time.
This profile only displays the first 25 miles of the course where I turned around and headed back.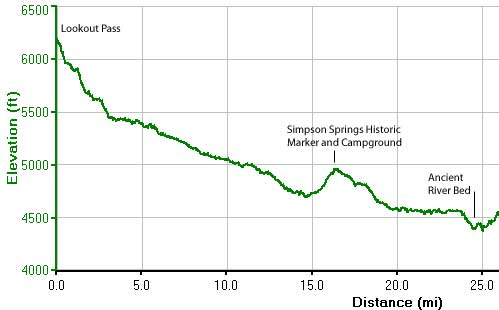 Hiking/Biking/Running Time
That all depends on your mode of transportation. The road was well groomed, so running, biking, and driving are options. Basically, you can go for miles until you get tired or your car breaks down.
Date: October 16, 2009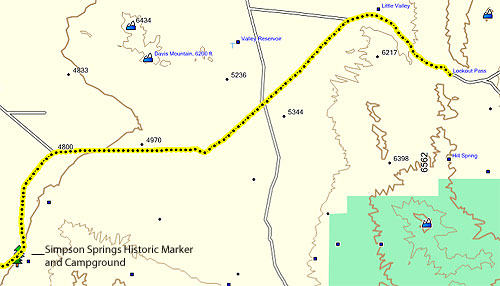 Course Map of the first 16 miles to Simpson Springs

On this adventure, I was attempting to do a non-traditional variation of the course by going out 25 miles and then returning back to the start. Now, this wasn't my original plan. Actually, I had purchased a rim and full-size spare for our minivan to take with us as extra security; I just didn't want to rely on the undersized doughnut spare that comes with most vehicles these days in the event that we had a flat or two along the way. With such a set up, I was getting prepared to do the real, 50-mile, one-way run all the way out to Blackrock Station.
To get a feel for part of the course, my wife and I drove out along the first few miles of the Pony Express Trail, and things looked really good. As we were returning, the back latch on our van started acting up and wouldn't close. Therefore, we decided to try to get it fixed before the race. As our bad luck would have it, while my wife was running an errand in the afternoon, someone got into our car and stole the spare tire. Now, why take a spare tire? Could you have taken something even better . . . like our 72-hour kit or an old jug of antifreeze or an old French fry under the seat? Come on!
Well, at that point, I thought the race was shot. I didn't want to take my family out on the trail without a reliable vehicle that wasn't prepared for the elements in the event I punctured a tire on a rock. I was somewhat resigned to staying home and mowing the grass. However, after contacting the race organizer (Davy Crockett), he provided some encouragement and some options to participating in the race. At my suggestion, I would try the 25-mile, out-and-back course that, although it wouldn't be counted in the official standings for the race, I might be able to at least participate the race in some fashion.
In this race, every runner must be supported by his/her own crew, and in this case, my crew consisted of my wife and daughter in a minivan. Again, you should have a good spare tire alone with you because you won't get much help out there except from rattle snakes, rabbits, antelope, and an occasional wild horse.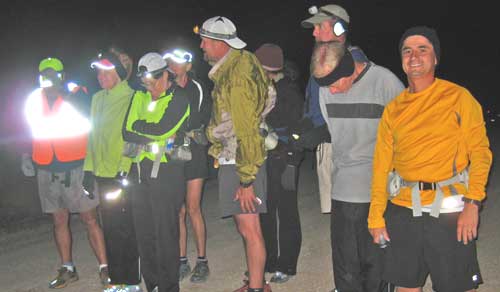 We arrived at the start about 5:50 a.m. in time for the early start (I'm standing at right in the picture); I knew I could use the extra time to get going and run in the cool of the morning. There were about nine runners, both for the 50- and 100-mile race, that were starting early. Once the race began, I stayed with the group for about the first 50 meters, but then when I realized that most people were taking a slower pace, I decided to take the lead into the dark, something I maintained throughout the first 25 miles. (Keep in mind, however, that the real seasoned runners wouldn't start until two hours later, so I was only head by distance, not speed.)
I told my crew to stay out ahead of my of me about every three miles, and for the first hour or so, we were running in the dark. I kept looking behind me, but I could no longer see the headlamps of the other runners nor their crews. I just kept pressing on at a comfortable pace. I had reached about mile 11.5 in about two hours, I knew the speedsters starting at the 8:00 a.m. time would quickly catch up. The unique thing about being out alone was the amazing wildlife moving in the morning hours---animals that would quickly disappear in the activity of the day.
Perhaps the best part was at about mile 14 when I came across a herd of antelope and a group of wild horses just in front of me along the road. I reached for my camera, and then realized my crew out ahead had it with them. Fortunately, they captured the pictures for me seen here:

Free ranging horses along the Pony Express Trail

Antelope grazing along the Trail
In the early 1800s, the pronghorn antelope were numbered in the millions; we we see now are the remnants and the preservation efforts to to save remaining herds.
The horses and antelope didn't seem to pay attention to me along the road, but then they moved westward into the distance. A real treat in the early morning.
Unfortunately, I had been paying so much attention to the nature around me that I began to wonder if I was on the right road. Back about mile 13, there was a road that head directly west to what I later figured out was probably Michael Army Airfield. I remember reading something about a turn here or there, but I started to fear that I was off track. At about mile 15, I felt I had to ask someone, and the only evidence of human presence was a truck and trailer park off to the side of the road. Now, I knew that Simpson Springs was around mile 16, but I didn't want to backtrack in case I was wandering aimlessly in the desert. I approached the trailer and called out in a friendly hello not to startle the sleeping campers. After confirming my location, I proceeded on another mile, arriving at Simpson Springs at about 9:00 a.m.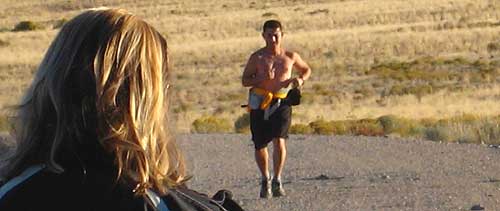 My crew cheering me at Simpson Springs
I paused a few minutes at Simpson Springs, continuing to look back to if any other runners were approaching. After refueling, I took off to make the long trudge for the next, mostly straight miles to the ancient riverbed in the distance. This was a long section, but I was still feeling good, and I pushed on. My wife joined me on the trail for a short while to keep me company since you can't have much conversation with the snakes we encountered along the way. A minor (or major) fact to keep in mind is that there are no trees, nor big brush, to hide behind for bathroom breaks. I didn't have to worry about this since I couldn't see anyone for miles.
About mile 24, you drop down into what is said to be the riverbed of the ancient Sevier River that drained into Lake Bonneville (See HERE for more information). The river route is reported to have changed after a lava flow, perhaps from Utah's Pahvant Butte 15,300 years ago, altered the river's course into the Delta and Sevier Lake area (See HERE for more possible details).
After crossing the riverbed and reaching mile 25, I stopped briefly to change socks, eat a bite, refuel, and then return back the way I came. After a few minutes, I began to pass the other runners in the other direction, and a number of them asked me what I was doing. I briefly indicated that I was doing an unofficial version of the 50-mile race; everyone was friendly, yet focused. Phil Lowry just happened to stop briefly by my wife's minivan to get some rocks out of his shoe, and he mentioned his recent run at the Bear 100. As I passed Jarom Thurston, he gave me a high-five, and he seemed like he was actually enjoying the run---full of energy. Pablo Riboldi also gave me a friendly hello. With in a matter of a few minutes, I was alone again, heading in the opposite direction of everyone else. For the next few miles, a few hunters stopped and asked me if I was either lost or if my vehicle had broken down somewhere. They didn't seem to get the idea or thrill of running in the desert.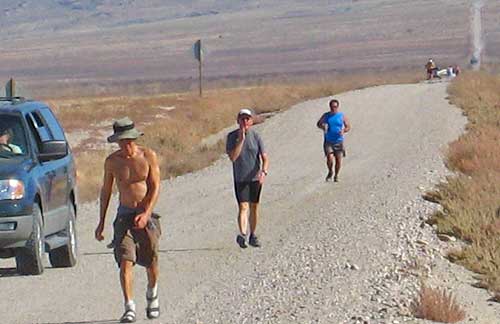 Runners at about mile 23
At about mile 36 a couple of miles north Simpson Springs, I decided to call it a day. It was a wonderful experience to see scenic parts of the state and spend time with family. The friendly and encouraging association of the running community makes this sport very enjoyable.
[ Photo Gallery ]