> Home
> About This Site
Summary | Area Map | Distance and Difficulty | Hiking Description
[ Photo Gallery ]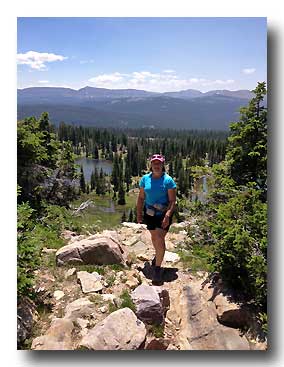 Hiking to Naturalist Basin in the High Uintas of Utah is a real adventure and treat, taking you to numerous alpine lakes at about 11,000 feet. This area of the Ashley National Forest is along the Mirror Lake Scenic Byway is usually accessible from late spring through early fall, so be sure to check for road openings and conditions.

With so many hiking, camping, and fishing opportunities, everyone will certainly enjoy the experience no matter how far you go and how long you stay. You will also encounter many species of trees including lodgepole pine, Dourglas Fir, and Quaking Aspen along the way

(Picture taken above Morat Lakes)




Your journey begins at the Highline Trailhead about 35 miles east of Kamas on Highway 150. If you are heading east from Kamas, watch for the Mirror Lake turnoff on your right. Don't stop here. Continue past that for about three miles. You will see the Butterfly Campground on your left before you reach the trailhead on right. You will also pass Camp Steiner on your way, which is the highest Boy Scout camp in the United States.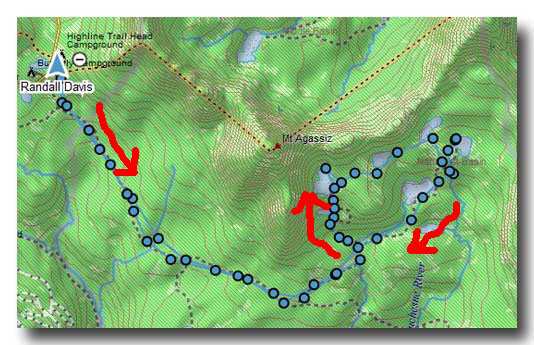 Approximate GPS Coordinates Near These Locations (approximate miles from trailhead)
(Be sure to confirm coordinates with a topographic map of the area. Hikers should never depend on one means of navigation since topography, GPS devices, and even human error can affect readings.)
Trailhead: 40.43.338, 110.51.850
Scudder Lake: 40.42.246, 110.51.053 (2.2 miles from trailhead)
Packard Lake Turn Off: 40.41.695, 110.50.476 (3.2 miles)
Four Lakes Turn Off (Dean Lake and Others): 40.41.268, 110.49.242 (4.1 miles)
Arrival at Naturalist Basin: 40.41.820, 110.48.493 (5.3 miles)
Morat Lakes: 40.42.113, 110.48.779
Waterfall after Morat Lakes: 40.42.156, 110.48.772
Blue Lake: 40.42.250, 110.48.820
Walcott Lake: 40.42.383, 110.48.593
LeConte Lake: 40.42.464, 110.48.271
Faxon Lake: 40.42.706, 110.47.780
Shaler Lake: 40.42.710, 110.47.420
Waterfall towards Jordan Lake: 40.42.431, 110.47.476
Route down from waterfall: 40.42.421, 110.47.447
Route from waterfall to Jordan Lake: 40.42.332, 110.47.583
Well, how far do YOU want to go? We completed the 17+ mile route in one day in about eight hours, and we ran, hiked, and swam during that time. My wife and I do a lot of trail running, so we are used to going light (running hydration gear and some food), but not necessarily very fast. For many people, they might want to break up the trip to two days, allowing time for fishing, swimming, and some exploring the area. Our description details how we did a clockwise direction route around the lakes, from Morat Lakes to Jordan Lake. People will certain have their own preferences, but for us, we felt that hiking up the steep sections to Morat and Blue at the beginning (i.e., with out heavy packs, tents, and cooking gear, of course) worked best for us. Having GPS coordinates and a compass can certainly help navigate the terrain, but it wasn't hard to travel from lake to take without them since we had a map with us.
In all of my years in Utah, I had never been to this part of the state to hike or run. Our family has gone on camping, hiking, and trail running adventures many times to southern Utah (Moab, Canyonlands, Capital Reef, Bryce, Zion to name a few). On this occasion, I wanted to take my wife to a unique place that we had never been before and put a few miles on our running shoes at the same time.
We arrived at the trailhead at about 9:30 a.m. and after a few minutes of orienting ourselves, we ran the gentle, and rocky, downhill the first 2 miles until we reached a sign pointing to Scudder Lake off the right. We were glad we took the time to stop. This place combines the beautiful greenery of the area, lily pads, ducks, and tranquility. This makes a great day hike for families, and there are places on the bank to sit and have a picnic.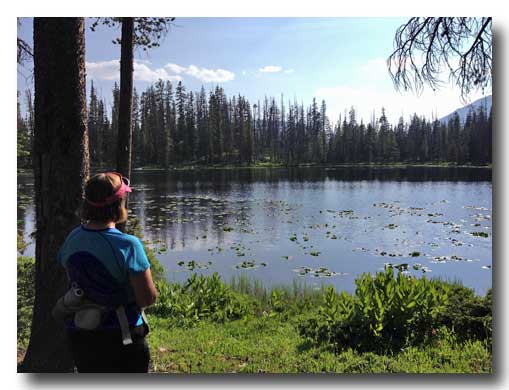 At Scudder Lake
We returned back up the spur trail and ran again into a group of scouts we had passed earlier. They were hiking to Blue Lake, laden with heavy packs for a few-days stint. Although it certainly would be fun to spend some leisurely days in the mountains, we were also glad to be only running with what we needed for the day.
.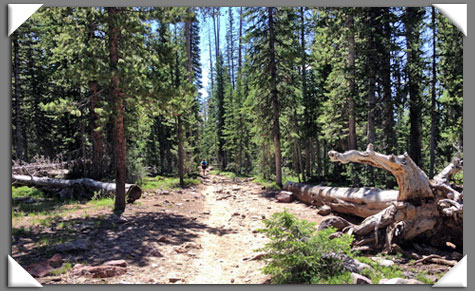 Running in the spruce forest between miles 3-5
You pass some beautiful meadows and wildflowers as well as small streams with views of Hayden Peak and Mt. Agassiz rising 12,400 feet off to your left. For the next few miles on the Highline Trail, you pass the the Packard Lake Trail junction at just past mile 3. We didn't have time to visit Wilder, Wyman, and Packard Lakes for this 2.8, out-and-back section. Back on the Highline Trail, the route continues through the forest, crosses several sections of boardwalks keeping hikers above the marshy ground, until you arrive at another junction with a sign pointing to Naturalist Basin to the left. The other trail heading straight at the fork is unidentified by any sign or marker, but it takes hikers to the Four Lakes Basin Area (Jean, Dean, Dale, and Daynes) about 3 miles beyond this fork.
Back to the fork. Follow the left fork for about a mile. It climbs slowly for about .75 of a mile then drops and rolls, passes a very shallow marshy area and an interesting dead tree to the right (which could go dry during parts of the year) until you reach Naturalist Basin. You will know you are there when you reach a large meadow off a clear view the cliffs in front of you as well as the stream to your right.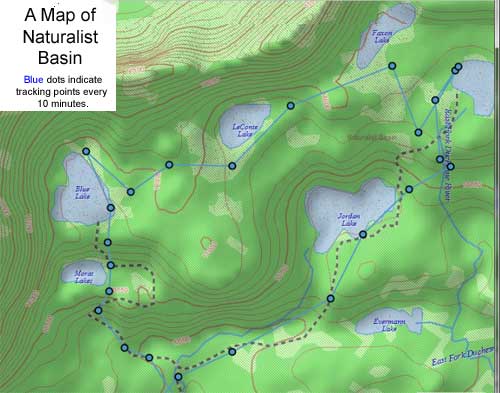 A view of Naturalist Basin. On our trip, we did the route in a clockwise fashion, and the blue dots were our tracking points recorded every 10 minutes using a Dolorme inReach. SE. Our route starts at the bottom of this image.
Unfortunately (and perhaps ultimately, fortunately), we didn't see the little trail sign with directions to Blue and Jordan Lakes attached to a tree as we approached this section. A number of these signs blend right into the bark of the trees, so they might not be very obvious. We had initially planned to go to Jordan Lake first, but once we reached the stream, we didn't see the trail that crosses it, and assumed that the more prominent trail to the left was leading us to Jordan Lake. Not realizing the slight navigation error (again, we had a map, but didn't have GPS coordinates), we continued to the left. The trail slowly climbs for about a half a mile until you arrive at a large open marshy field to your left with green and black, lichen covered boulders all around. After asking for some directions from some hikers, we continued to hike along the eastern side of this marshy pond, and the trail climbs steeply until the trail levels off as you arrive at Morat Lakes.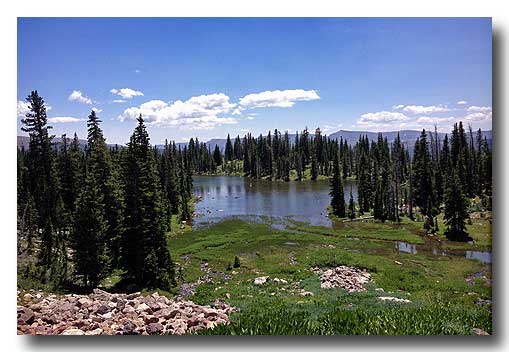 The shallower Morat to the east.
By this point, we realized that having bug repellant would have been a great idea, and in fact, I had planned to bring some, but I thought the heat of the day would dispel any nasty mosquitos. Well, that wasn't the case at all (and things would get worse later on).
Now, keep in mind that many hiking books and topographical maps will identify and mark a trail around the east side of the eastern lake; however, there is shortcut right between the two lakes that was more distinct for us. We are not sure if the two lakes flood this area during certain times of year, and for take reason, most maps show the other, longer route, but going straight towards the audible and distinct waterfall seemed to be the best and quickest choice for us.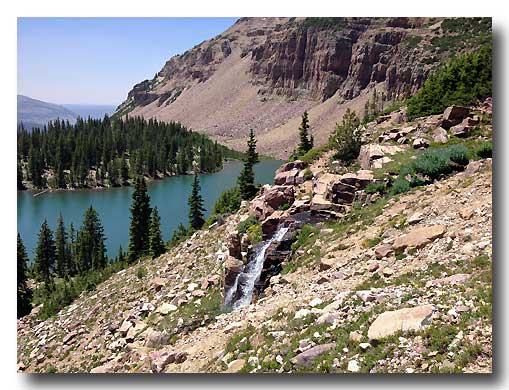 The deeper Morat Lake to the west with the waterfall next to the trail ascending to Blue lake. This isn't a fun section for those carrying heavy packs.
After taking a few pictures and enjoying the views and wildflowers, we continued up the trail, past the waterfall until the trail leveled off. After a short distance, Blue Lake came into view, sitting at the base of Mount Agassiz, named after Louis Agassiz, "a Swiss-born and European-trained biologist and geologist recognized as an innovative and prodigious scholar of Earth's natural history" (see Louis Agassiz, Wikipedia).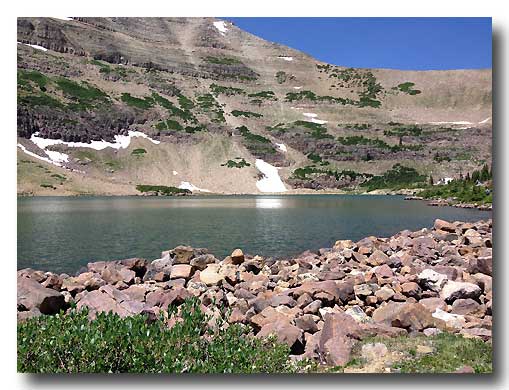 At the south end of Blue Lake
As we walked along the east side of the lake, we ran into a scout group that had been having great success fishing at the lake. The area was very serene and only interrupted by DARN MOSQUITOS! We went to fill our water bottles with snow at the north end of the lake, but the mosquitos kept zeroing in on us, and it was useful to try to bat them away. I almost wanted to jump in the water to rid myself of them. A cloud of them formed around my wife. (Don't let this part of the story detour you doing the hike; more preparation to deal with these creatures would have solved things for us.)
Not wasting time to fret too much about them, we bushwacked and hopped from boulder to bolder as we made our way east, past tiny Walcott Lake (which looked more like a watering hole), and then dropping a little elevation to LeConte Lake leaving the bolder fields behind. The mosquitos were perhaps worst of all here, but intermittent breezes helped. We simply had to smile and let the scenic views disperse the unpleasant bites. (Again, insect repellant would have been a nice relief.) Since these lakes are at the base of the ridgeline, you can't get lost with basic route-finding skills.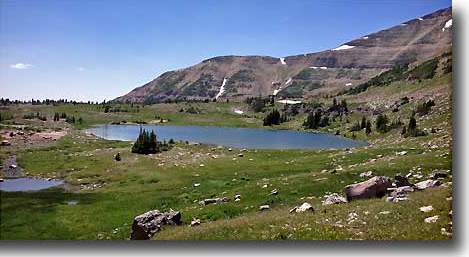 Looking toward LeConte Lake.
We passed by LeConte Lake on the south end, passing by a few smaller ponds, and then make a short, gentle climb, finding Faxon Lake about .3 mile to the east. From time to time, you will catch sight of a faint trail between these two lakes. So peaceful. We didn't see a soul throughout this stretch.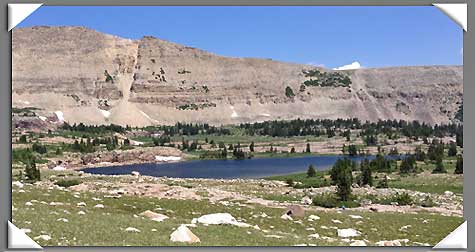 Looking towards Shaler Lake from near Faxon Lake
While I was taking some video and pictures, my wife went a little ahead toward Shaler Lake and came across a family fishing and swimming in the COLD lake water. I mean, if there is still snow around parts of the lake, you can bet it will be a little chilly. Realizing I might not get this chance again (and with a little encouragement from my wife and others), I decided to take a dip . . . . as brief as it was. I have to say it WAS refreshing, and I quickly dried off as we continued our hike to Jordan Lake.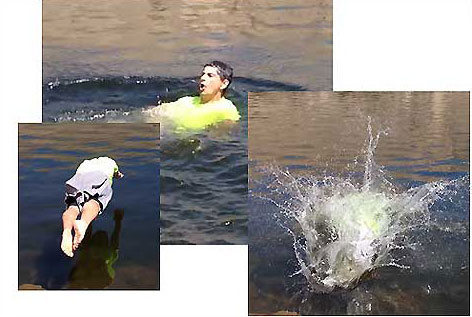 SO COLD!!! A quick dip in Shaler Lake at almost 11,000 feet.
We weren't exactly sure as to where to descend to Jordan Lake, but we headed slightly southwest leading us to a spectacular waterfall where the water poured over rocks to the ground below (see GPS coordinates above). I don't think this is the normal route that most people follow when going in the opposite direction from Jordan Lake, but it is well worth the visit in either direction. The difficult part might be in finding this spot, seeing that the path from Jordan Lake seems to disappear on the south end as you approach the cliffs and plateau above the lake.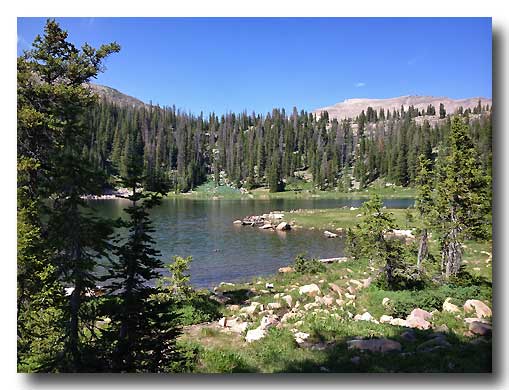 At the south end of Jordan Lake
What is simply amazing is that the entire vegetation and ecosystems change as you rise above the treeline from Shaler Lake and above. Wild flowers are present everywhere, but the trees and bush seem to change throughout this hike.
We continued past Jordan Lake and caught a glimpse of Everman Lake in the distance. From there, we enjoyed our hike back along the Highline Trail and made another stop at Scudder Lake for a few minutes. The changing shadows caused by the evening sunlight made it feel like we were visiting an entirely different lake. We then continued on back to our car.
Conclusion
Wow. What a hike! Seeing that we went during the week, we probably saw fewer hikers (about 30) than you might see on a typical day, so you won't find perfect solitude unless you venture to LeConte or Faxon Lakes; however, the variety of lakes, wildflowers, and other wildlife packed in one area certainly can make a fun (but long) day trip or a camping adventure.
[ Photo Gallery ]