Trailhead and Map | Trail Description
Distance and Difficulty | Hiking Time | What to Bring
Courthouse Wash Bridge, USGS The Windows Section, Arches. Click HERE to view the approximate starting coordinates and map.
Having visited Arches many times, I thought I had cover most of the "must-see" areas in the park, but another jewel awaited me right off Lower Courthouse Wash (Arches National Park Website - http://www.nps.gov/arch/). You can reach the trailhead by driving into the park for about 4.5 miles. There is a parking lot right after the bridge on the west (left) side of the road if you are approaching it from the park entrance.
The actual trail is over six miles starting from the trailhead I mentioned to the end just outside the main entrance of the park, but since we had little time to go any great distance, we took a short .5 round-trip hike along the wash to cool off from the summer heat.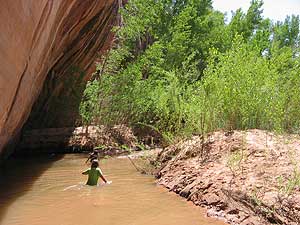 From the parking lot, we crossed the road to the east, dropped down into the wash and walked along the north side heading east. Because of the amount of water that flows or pools in this area, willow and cottonwood trees are in abundance. The trees' shade was a very nice relief. You can find any number of pools along the trail. The kids enjoyed jumping in the water, but the bottom is like somewhat like quick sand, so watch your step.
To reach swimming pools in the wash, you can walk less than .25 of a mile, depending on the time of year. The hike is easy for all ages.
About 1-2 hours depending on how much time you spend in the wash. Add more time if you hike the entire trail.
Good walking shoes, sandles, or water shoes. Bring a towel or a change of clothes, as needed, if you decide to jump in for a dip