> Home
> About This Site
Summary | Area Map | Distance and Difficulty
Cut-Off Times | Race Description

[ Photo Gallery ]

See 2010 Video Report HERE

A fantastic event of an unusual flavor that will test your endurance while providing some unbelievable scenery along the way. Highly recommended!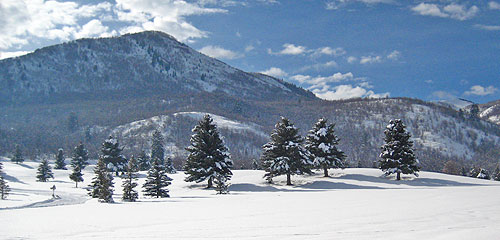 Scene along the golf course section of the race
2014 Race Report: I decided to give the full 50K race a try this year. Leading up to the event, not much snow had fallen around the Salt Lake and Utah valley areas, so I initially had some concern as to whether there would be much snow on the course. However, for those who chose not to join the event for this reason, they missed out because the weather and course couldn't have been better. As usual, it was a little brisk in the morning, but the sun was out all day, and the packed snow conditions made for easy hiking and running.

2011 Race Report: The race report below details my first experience in running in the event in 2010. I participated in the 2011 running of the race, and once again, the event didn't disappoint. The temperatures seemed to be slightly warmer than last year with less snow, and most of the course was well packed, making for an easier and faster course. I ran the marathon once again, and except for a blister on my foot, I was able to cross the finish line in one piece.
The snowshoe races of various distances for this event take place at Wasatch Mountain State Park, in Heber Valley, southeast of Salt Lake City. During the summer, the park is home to golfing, camping, birdwatching, horseback riding, and hiking; however, the fun doesn't stop when winter arrives because there is plenty of snowshoeing, snowmobiling, and cross-country skiing during the winter. The official Web site for the race (Kahtoola Wasatch Winter Bigfoot 50K and Marathon) gives a very informative description on the races offered (50K, marathon, 25K, 10K, and 5k) and directions on how to get to the area.
Runners can choose from five distance races, as indicated above, and you can use your own imagination to figure out the difficulty. To qualify for any awards, you have to use snowshoes for the entire race, but other participants are allowed to take them off and run with any other shoe or traction system after a certain distance in the race.
Being this my first time in a snowshoe event and having only a limited among of time on that day, I decided to try the marathon, and thus, my report is mainly focusing on this distance.
Now, I wondered why over 30,000 people would run the Chicago Marathon, 25,000+ in the Boston, and 10,000 or so that run in the Salt Lake Marathon, and only a handful (10 finishers for the marathon and 11 for the 50K) would come out and try this race. Yes, the race was only in its third year, and thus, not as well known as other events, but perhaps the idea of slogging through the snow for miles doesn't sound either human or appealing. A few jaws dropped when I was asked if I actually partcipated in the race. "I might be able to snowmobile 26 miles," stated one friend, "but snowshoe it? No way! You really DID that?!?!"
Yes, it perhaps was an unusual way pass the day, particulary with all the elevation gain throughout the race, but personally, nothing beats being out in nature, often without running into people or other racers for miles----I just can't see myself running shoulder to shoulder with thousands of other runners for an entire marathon. I'd get claustrophobic. This profile below only displays 23.3 miles of the course because I inadvertently turned off my GPS watch several times during the race (a total of about 30 minutes or so). However, you can get a feel for the elevation gain for each section of the course.

The official cut off time for the marathon was 7 1/2 hours and 9 1/2 hours for the 50K, but the race director was very flexible with this, allowing slower runners still complete the race.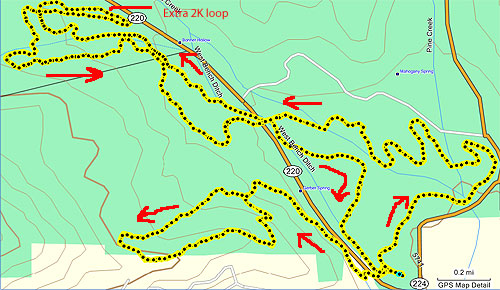 Course Map for the Marathon and 50K races

The marathon race consists of doing a series of loops, with the total distance being approximately 26.2 miles. The first, third, and fifth loops were 6 miles long following a groomed trail on a golf course (but you would never really know it), and the second and fourth loops took place a three-mile mountain trail (thus, 10K, 5K, 10K, 5K, 10K). However, to ensure that runners reach the correct distance, runners need to take an additional 2K mini loop that is added to one section of the golf-course loop. The golf course look gains about 900 feet in elevation over six miles while mountain loop climbs about 1,200 in three miles.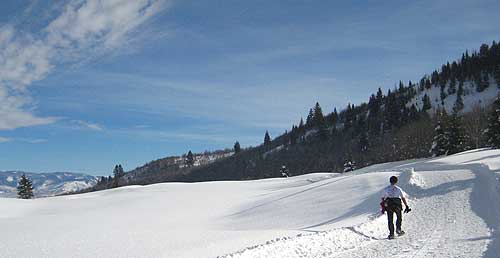 "Simply amazing views" -- Near the top of the golf course loop at about mile 4
Pre-Race (before 8:00 a.m.)
In the couple of weeks before the race, I thought a lot on how to both physically and mentally prepare to the adventure. I have participated in marathons and ultramarathons (and do trail running in snow in the winter), so long-distance running isn't new to me, but the added component of wearing snowshoes was a new twist. In terms of clothing, I knew that if I got cold, that would spoil the entire experience. Therefore, instead of spending money on completely waterproof shoes, I planned on taking three pairs of trail running shoes that had been sprayed with a water-resistant sealant with the hope that my shoes will stay somewhat dry. (This was in addition to some warm running socks.) I also planned on taking some waterproof gaitors to help prevent snow from sloshing into my shoes. As it turned out, I never changed shoes or socks, and while my feet didn't stay completely dry---a combination of sweat and snow, I didn't feel uncomfortable throughout the race, and I only noticed the dampness in my socks during the last few miles.
As far as the mental issue was concerned, I wasn't sure how long I would last in snowshoes seeing that the farthest I had ever run or walked in snowshoes was .25 of a mile to test out the snowshoes I had bought for the race. Not a lot of confidence-building training, but I felt comfortable in my short trial, so I didn't anticipate any major problems.
My wife and I arose early and drove out to the race start, seeing that we live less than an hour away. The morning was cold and foggy, so it was hard to tell how things might go during the day. We arrived a little after 7:00 a.m., so I could do on-site registration. I could tell it was going to be a small, but pleasant crowd. The race organizer, John Bozung, was very friendly and was extremely helpful in providing pre-race information. Having never participated in such an event and with a very limited knowledge of snowshoes ("They go on your feet, right?"), I just wasn't sure if I was up to the task. However, the allure of trying something unusual couldn't keep me away.
Loop 1: mile 0-6
The fog was still present outside, and the temperatures were in the teens (if that) at racetime. After a brief summary of the course, runners gathered outside of the visitor center, and at 8:11 a.m., the runners were off. As usual, I took the honors of being the last person out of the starting gate; I'm not very fast anyway, and by starting in the back, I don't get caught up in the initial sprint.
During the first few hundred meters, I knew this wasn't going to be an easy jog, but I kept plugging away with a mix of running and fast walking. However, at about 1.5 miles, I realized this was going to be long day; thoughts raced through my mind of ditching the snowshoes after the required first two loops (a total of nine miles) because my feet and the snowshoes weren't getting along.
I called my wife, who was waiting back at the visitor center, that things were going quite slow; the undulating first few miles can wear on a person. A brief water break at the aid station at mile 2.3 helped.
About mile 2.5, I started walking with a woman (who I later identified as Joanne Bockhorn from Missouri) and had a pleasant chat about running and her adventures with her running club. How amazing is it for a group of runners to travel across the country to try a snowshoe marathon?
I pressed on biding her a good day and eventually reached the top of this section of the loop around 3.6 miles. At this point, it was great to be heading downhill, but you had to look around and enjoy the fantastic views looking down into Heber Valley.
The snow was great, and the day was warming up, so I stripped off part of my upper layer. As I was making my way back to the start of the looped, I greeted Andrew Barney, and we both commented on the great weather for a run. After a brief stop at the aid station at 5.2 (the same aid station at 2.3), I trotted into the visitor center at 1:28.
Loop 2: Miles 6-9:
I grabbed a snack from my wife, and I started out for the 3-mile mountain loop; however, one thing puzzled me. I noticed that Joanne Bockhorn, who I had passed several miles back, was leaving the aid station about two minutes ahead of me! Hmm. I know I take a lot of pictures and videos during races, but was I somewhere off the course when she passed me? It's been known to happen.
Well, I thought I might be able to catch up to solve this mystery. The first part of the mountain course was a gradual accent, and some of the lead runners where heading down as I made my way up. Then, at about .9 of a mile up the trail, I came to a t-junction. "Oh, rats! Now which way?" Now, the course was clearly marked, but I had to pause and try to remind myself which way to go. As I made my way through the trees, I caught a glimpse of Joanne Bockhorn in the trees, so I thought I could catch up. As I approached her, and to my surprise, it turned out to be a "Joanne Bockhorn" look-alike: same clothes, same hat, and same cheerful demeanor. However, Joanne turned about to be Jeff Bockhorn, her husband. Mystery solved. On our way down, we chatted about the course and the experience of running in snowshoes, "loving" every moment of it. The mountain loop was the section of the course that I probably enjoyed.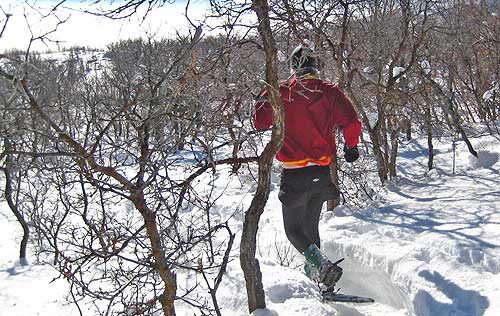 "Barreling down the course" -- Jeff Bockhorn of Missouri
Loop 3: Miles 9-15:
As I finished the second loop, I handed my wife my gloves and coat, grabbed another ensure, and was off. I was feel a little invigorated from the downhill run, and I decided that if I was going to call this a snowshoe marathon, I had to keep my snowshoes on the entire distance. This second loop was only slightly slower than the first go around for the first few miles, and the warming of the day helped. I took off my heavier layer and was now running in a t-shirt. As I approached the upper part of this loop, the race organizers added a one-time additional 2K loop for all marathoners to make sure you covered the actual distance. This short jaunt didn't take took long, but as I was returning back to the main loop, I started wondering if I should have done it twice. That mini loop just didn't seem like a complete two miles . . . (It wasn't until later that I fully realized it was supposed to be 2K just as posted. I guess my mind was playing tricks on me.)
As I came back into the visitor center at mile 16, my wife gave a few fries, some more drink, and a snack, and back up the mountain trail I went, this time with my gloves back on and my coat wrapped around my waist in case I needed it.
Loop 2: Miles 16-19: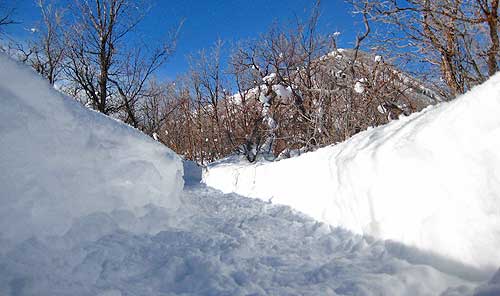 "Ah, it ain't that deep!" -- Ground view of the mountain trail
Going up the mountain this time was much slower than last time (about 4 minutes slower each mile); the sun was dropping in the sky, making it a little cooler, and I didn't see anyone of this section of the course until I was coming down the last half mile or so. I was still feeling relatively well, but I bit it hard at one point coming down and took a nice roll. I called my wife and invited her to join me on the last 6-mile loop, something that I knew we would enjoy together, and I realized I could use the support.
Loop 2: Miles 19-26.2:
My wife and I started the last 6-mile loop at 5:37. Of course, the winners had already come it and were relaxing. Fortunately, I never have visions of placing or even making the awards ceremony. I'm simply too slow, but I find great pleasure in just finishing.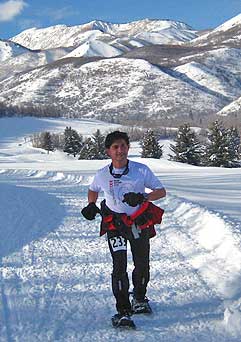 "Wow, look at all those runners!" -- Only a few miles to go to finish the marathon with just peace and quiet around me

We made are way around the course until the aid station in the middle of the golf course. One aid station worker asked me if I was tired, which I emphatically replied yes, and he responded jokingly that I should never admit it. The first thing that goes is pride for me in these races. We slowly made it around the course, and I was feeling tired but energized at the same time with the presence of my wife. What better way to have fun than to do something challenging together? We walked and jogged the rest of the course back to finish, and I came in at 7:37.

I often comment that my marathon times are getting progressively slower, but I guess I keep trying harder and harder courses.

Warm food waited runners inside the visitor center, and all finishers were given a nice wooden medallion for completing the race.

This race was definitely one of the most challenging and exciting races I have done. The low-key, yet very organized, nature of the race made it very worthwhile. Running a marathon of any type is a real physical and mental challenge; adding snowshoes and a lot of climbing to the mix makes the event just that much more rewarding.

[ Photo Gallery ]