> Home
> About This Site
Summary | Area Map | Distance and Difficulty
Cut-Off Times | Race Description

[ Photo Gallery ]

The inagural running of this event was filled with wet, but pleasant weather, beautiful, scenic views, and some unclear markings that led many runners on an extended and uncharted route through the desert. [NOTE: This race was held two years, and it is uncertain whether it will held again in the future.]

The starting point is shown below.

The marathon at 26.2 miles or 42 kilometers follows a gently-flowing course over an area called Hurricane Cliffs, just east of Hurricane, Utah. The mileage and distance show in the graph below only indicates the portion that I completed.

No race cut off was indicated.
Hurricane Cliffs trail system where this event took place is located northeast of St. George, Utah. This area is composed of five main trails covering roughly 23 miles of a section of the Mojave Desert, defined by its low rainfall, hot temperatures, unique vegetation, and possible sightings of gila monsters, desert tortoises, and rattlesnakes. The allure of seeing some of these things in combination with a desert trail marathon were enticing enough to run this race.
A Hurricane Jem Marathon - Northern Section of Course
Here is the lower half of the course.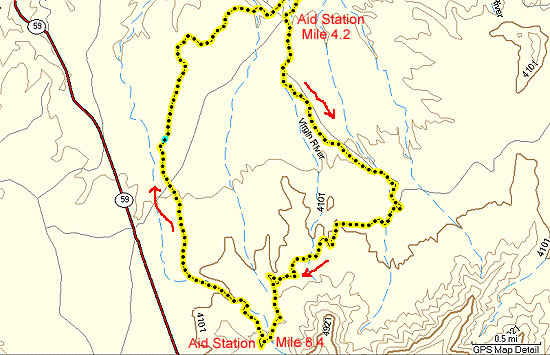 Course Maps for A Hurricane Jem Trail Marathon
Having participated in another event, the Red Mountain 50K earlier this year, I decided to try another race sponsored by Red Mountain Running in this beautiful section of Utah. The race directors, Jeremy, Adriane, and Phil try to customize their races to not only provide a fun event for runners, but also to sponsor worthy causes, in this case, helping the family of a fallen law officer.
My wife and I decided to make the trip with some of our family, packing in the race and some hiking in Zions National Park on the same day, and it turned out to be a real adventure.
Pre-Race Briefing at Virgin City Park
We arrived in Hurricane on Friday night about 11:30 p.m.---a late arrival, but sufficient for a few hours sleep---with the rain gently coming down. By morning, the rain turned into a constant pour, and I knew I was in for a pleasant morning shower minus the soap and shampoo. I had a light breakfast at the hotel and arrived at the starting area just after 7:00 a.m. Since I was already planning on a wet run, I had a rain jacket with me to ward off some of the dampness during the run. Jeremy, Adriene, and Phil greeted the small, but enthusiastic crowd with some general explanations of the course, and after some pre-race activities, the thirteen of us were off in the dark and wet morning.
The first mile or so take took us along the main highway for 1.2 miles, and then we took a left onto a dirt road. The pace was very reasonable as I followed along with two other runners, but had it not been for one of them making the turn, I would have continued on straight. Later in the day, I realized that there was a painted arrow on the pavement, but it wasn't very noticeable because of the darkness.
I continued down the dirt road for three miles until the first aid station. All along the way, I was sloshing in mud, but the rain tappered off by that point, so I stopped briefly at the aid station (with some very enthusiastic and supportive volunteers), dropped off my rain jacket, and continued for the next four miles along a jeep trail. I always carry a mini tripod to record sections of the race, and I realized that it must have popped out along the trail, but fortunately, another runner had discovered it somewhere back.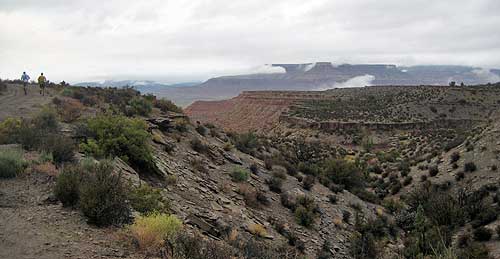 On the Jeep Road About Mile 7
I pulled into the second aid station right before 9:00 a.m. at mile 8.4. I filled my bottle and was off. At this point, the Jeep trail connects to the Jem Trail, a beautiful single-track which I followed downhill for 1.6 miles. At end of this section, Jeremy, one of the race organizers, was standing on his truck to help signal races to cross the dirt road and continue on in an northwest direction. After another aid station a couple miles beyond this, the fairly-level Jem Trail starts to bend and head in a northeasterly direction. Since about mile 6, I had been running right behind a couple of runners, so I hadn't questioned the route. Throughout the race course, there had been a few orange arrows here and there with an occasional orange ribbon on a stake; however, when I finally caught up to the two men, they were doubling back even though two orange arrows were pointing east. They said that there weren't any footprints in that direction, so we must have missed the real turn off.
Unfortunately, and unbeknownst to us, we had actually past the Hurricane Rim Trail junction about half mile before, and I wouldn't figure out this fact until after the race. Having come to anticipate turn signs or ribbons prominently displayed at key forks on the trail, I wasn't paying attention to other possible markings including trail signs, and it appears that the paint used to signal the turn at this important junction had washed away in the rain.
Now, back to the story . . .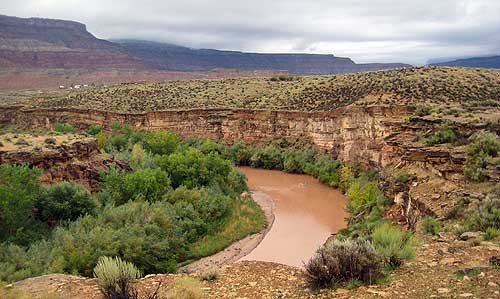 Running Along the Jem Trail
One of the most beautiful sections of the course
The two other runners felt confident that we still needed to continue on the trail we had been on which we had been, in spite of the orange arrows. I just was assuming that we might be following the trail in the opposite direction and that we would encounter some of the lead runners coming in the opposite direction at some point. Little did we know that we were way off course until we reach the main dirt road at about mile 2 with one of the runners running towards us. We quickly realized that we were all lost and so we, the four lost runners, decided to head back from where we came about 1.7 miles at the point at which we saw the arrows painted on the ground.
When we arrived, three other runners approached from the Jem Trail just south of us only to discover that they were lost too. (In actuality, they had made the same mistake some of us had made about not taking the unmarked turnoff to the Hurricane Rim Trail.) After consulting the map together and will no real consensus as to which way to turn, three of the runners took off south back down the Jem Trail while four of us followed the orange arrows which unfortunately took us back to the main dirt road which we then clearly realized we were really off course.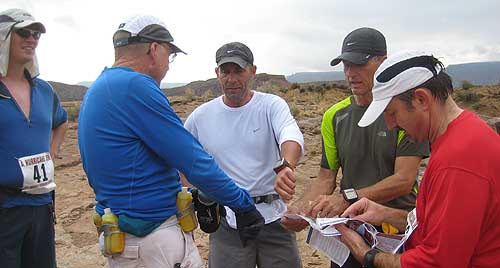 Lost runners trying to figure out the course map

After contemplating what to do next, the other three runners decided to head back from were we came in hopes of finding the actual route. I was tempted to follow them, but after walking briefly without a real sense of where to go next, I flag down an ATV who was out scanning the course because there had been word that a number of runners had gotten lost. Since the rider was on the phone with Phil, I briefly talked him about the situation, and as it turned out, at least half the runners were lost as well on the course in part because inadequate markings and some confusion with remenant arrows left over from another race event. Phil indicated that they were calling off the race and that the runners should work their way back to the starting line. It is unfortunate when a race is cancelled, but runners' safety is more important in such cases, particularly when you don't know where they are. I decided to run the three miles back to the starting line for some food and drink.

The race directors openly acknowledged and took responsibily for the issues and problems with the markings of the course, and they sincerely hoped for a better outcome. However, plans are already being made to ensure a very high-quality experience for everyone next year. Of the 13 starters to the marathon (and there were many more participants to the half marathon and 5K), only five completed it. However, the organizers promised free entry to next year's event for all those who ran the marathon, and knowing them, it will surely be a great race for the new and old to the course.

Even though I didn't complete the entire course, I still had a great time enjoying the beauty of the area and the friendly volunteers who helped on the course. It should be a great race in the future.

[ Photo Gallery ]