Summary | Area Map | Distance and Difficulty
Cut-Off Times | Race Description

[ Photo Album of Race ]

The Great Lakes of Utah Relay Race (greatlakesofutah.com) begins near the Great Salt Lake and heads to Utah Lake via Tooele and over Middle Canyon, for a total of just under 50 miles. Unlike other popular relay races that could potentially cost well over $1,000 per team, this low-key, yet well organized race was well within the budget of groups who are looking for an economical and scenic experience on their doorstep in the Wasatch area. Jim Budd, the organizer, first initiated the whole idea as a family event, and through the encouragement of others, opened it up to become an official race.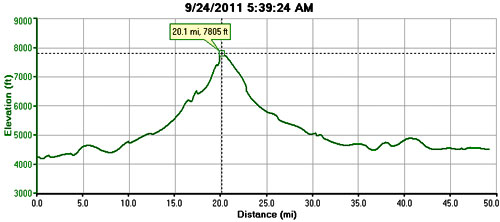 The course starts at 4,200 feet near the Great Salt Lake and then slowly rises to 7,800 feet over the first 20 miles, then dropping to 4,500 feet by the end of the course. The only difficult section is from mile 13.2 near the Oquirrh Hills Golf Course in Tooele until the top of the road of Middle Canyon at Butterfield Pass (mile 20). This 7-mile section gains over 2,500 feet.
Teams needed to complete the course by 5:30 p.m. at Inlet Park in Saratoga Springs, and each team was allowed to project their own starting time and was given a stopwatch to track and record their progress. As a result, the six teams in this year's event started anywhere from just after 5:30 a.m. to 8:30 a.m. or so. One of the goals in having different starting times is that everyone would arrive at the finish line around the same time for the awards ceremony.

About mile 8 running toward Tooele
Back in 2010, my brother, Jeff, told me about the first running of this race, and it sounded like a fun way to get our family involved in an event within a reasonable budget and distance. My wife and I enjoy running and have participated in long-distance events, but the rest of the family had little extensive running experience, so we thought this event could bring us all together within our abilities as a team.
As this year's event approached, Jeff started looking into it more, and we started formulated a game plan and our running squad, composed of six members, three people from each family. We signed up with the generic team name, "Run4Fun," and committed ourselves to the event.
Now, to understand the dynamics of our team, you have to understand some of our background. Keep in mind, we had no fantacies as to how we would finish; we just wanted to cross the finish line in one piece. Our team was made up of diverse group people: from one person who has done 15+ ultramarathons and other long-distance races, to another family member who had never run much beyond the mailbox and back before having started training for this event. I only share this to emphasize that participating in this kind of relay race can be within the reach of almost anyone who wants to walk, jog, or run any distance on a team whose primary goal is to just have fun.
We had a pre-race meeting the week before to go over the route and supplies. Charting out the course and our different abilities, we determined that it would take us approximately 12 hours to walk/run the 49 miles, not a blazing speed at all, but a pace at which we could finish. Based on our calculations, we decided to start early between 5-5;30 a.m. I credit Jeff for gathering all the information and making contact with the race director on our questions.
Self-portrait at the starting line, 5:30 a.m.
Unfortunately, one of our team members was under the weather on race day, so we would be going with a team of five. We (my wife, Shirley, son, Michael, and I) picked up Jeff, and his daughter Jorie, at 4:00 a.m., and we were off to the starting line along I-80 west of Salt Lake City. We got there at 5:20 a.m., and after a couple of pictures and a restroom stop, we decided that Michael and I would run together the first .5 mile or so to warm up and get into the groove of things.
On this and other similar relays, each team has a support vehicle with food and other supplies, and then the runners switch off at different points, often predetermined before the race. For the first 13 miles, we had simply planned that each runner would go between 1-2 miles and then switch off. It was dark for the first hour, so our team wore headlamps.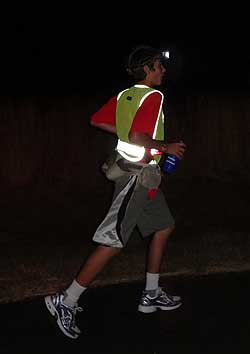 Micheal taking the first leg with headlamp and safety vest
Although not required, we had the first couple of runners wear a reflective vest; yes, these were country roads, but I never want to toy with a member's safety on such an event.
The first hour went well: first Micheal, then Jorie, followed by Shirley. Then, Jeff, took his turn on a one-mile slow climb, his first ever. You should have seen his expression ("Man, what did I sign up for?!"). For the next hour, they all took their turns again, running different distances as we made our way south to Tooele. I simply sat in the car, enjoyed munching on grapes, and getting out to help with exchanges. I felt great! At about mile 10, a team passed us up, and they looked much more serious, with almost choreographed handoffs. (Not a bad idea if you're trying to lower your overall time.) I took over from Jeff at the golf course at mile 13.2 about 8:15 a.m.
We decided that I would do the entire 7-mile climb up Middle Canyon to the top of Butterfield Pass, seeing that I have had the most experience doing long-distance races with eternal climbs. Plus, this would give my group time to take a nap at the top, and for Micheal and Jeff to face off in a chess game during that time. The support vehicle would drive up the road to where the paved road ended and wait for me. I thought it would be around four miles, but it turned out to be over five. Now, other teams may use a different strategy for approaching this section, prefering to have multiple runners over shorter sections, but I just wanted to give the team time to relax, plus I could simply cover this section, giving them time to get ready for the easier downhill sections. If we did this again, I would probably break this section off a little.
The climb was uneventful. A few cars passed by, and it was simply a slow grind to our meeting point. Once I reached the car at the end of the paved road (with Micheal greeting me down the road as I approached, I found Shirley and Jorie sleeping, with Jeff keeping an eye on things. While I grab something to eat, Micheal took over and ran a short distance up the dirt road. We caught up with him in the support vehicle, and then I took over the rest of the way until the top and the highest point in the course, Butterfield Pass. The road was steep, but the changing colors of the leaves made it a pleasant jaunt, arrving at the top right before 10:00 a.m.
Reaching to the top of the canyon at mile 20.
Initially, someone else was going to take over here, but I was feeling pretty good, so after grabbing a few bites, I started heading down into Butterfield Canyon, with the plan of the support vehicle catching up with me about 2.5 miles down on the other side. This section is very narrow, with no real safe place to pull off. The sun was warming thing up, but I was feeling great, making good time down the mountain. After about two miles, I began to wonder where the support vehicle was; I had assumed that they might have paused to have something to eat at the top, but it was taking them longer than I expected.
Hmmm . . . I just kept going until I got a phone call from Micheal. As it turned out, the car wouldn't start. Dead. Completely dead, so as soon as they realized this, Micheal (with some hesitation from mom) decided to see if he could chase me down or at least reach a point where he could get cell phone reception and call me because they weren't able to get any at that moment. Once I got the call, I knew I had to stop and that with that bad news, it would probably be the end of our race.
Bummer. All that planning and effort.
Yet, I was glad that it wasn't anything worse, and I just waited on the side of the road for more word. Soon, I got a hold of Jeff on top, and it appeared that it was more than just a dead battery because someone had tried to jump our minivan. Shirley was able to get in contact with her dad, and they would make arrangements to get us a car somewhere down in the valley; however, it still appeared that the race might be over.
As I waited for more news, Michael found me sitting on the side of the road, and not too long after, a small jeep pulled up with Jeff, Jorie, and Shirley inside, plus ONE BIG DOG! Shirley decided that she would run down the 4+ miles to the mouth of the canyon where the rest would be dropped off, but seeing that there was no room in the vehicle for both me and Micheal, I decided to continue my run with Shirley. (The problem with the car put us behind about 30 minutes.) I didn't want Shirley to run the entire way unsupported or unaccompanied. Actually, at the end of the race, we caculated that at least during 10 miles of the race, we had two people running together: (1) just for the fun of it and (2) because it was a good choice based on our circumstances. This is certainly NOT the way you want to do it to improve your time. You wear out runners that way, but again, we were in the race just to complete it.
About a .5 miles from the mouth of the canyon, Jessica, Jorie's sister who had be planning to join us until she got sick, met us coming up. It turned out that Jeff was able to reach her so that she could transport some of us to the Wendy's in Herriman, while one of us would start the next stretch of the race. Micheal jumped out and ran the section down to the mouth of the canyon.
Good news! Shirley's parents would take her up to the top of Butterfield Canyon, move our supplies into another vehicle, and her father graciously volunteered to wait there with our minivan until a tow truck got there (about 45 minutes later) to haul our vehicle down to the valley (It turned out that our starter motor had died, and we had that replaced a few days later.)
Jessica drove Shirley to Wendys, leaving Jorie to run the next 2.8 mile section we had tentatively planned out. Still, without a main support vehicle, I had water, and I would run with Jorie to the next point, even though I had run almost the entire up and down the canyon of around 13 miles. Hey, it was "fun." We spent the next 45 minutes running, walking, and talking. What better way to catch up on your niece's college life.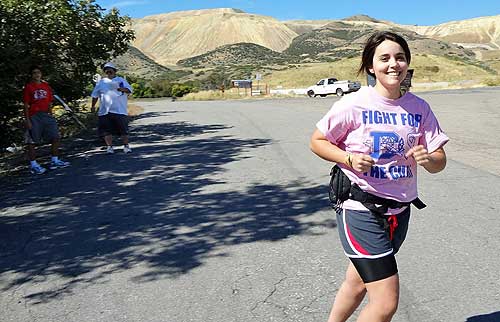 Jorie taking over at the bottom of Butterfield Canyon, mile 27.
At mile 30, Jessica, Jeff, and Michael met us in Jessica's car, and Jeff and Micheal did the next 1.5 miles to Wendy's where we were were planning to meet up. Great. I thought I would have time to grab a root beer and something light before they caught up to us, but the line in Wendy's was so long, that I took me thirty minutes to get through it, and Micheal and Jeff arrived there before I had my food. I quickly downed something, took a few gulps and was off, running a little low on fuel, but with the hope that Shirley would catch up to me a few miles down the road. At this point, Jorie unfortunately had to go to work, and Jessica returned home to rest, but we greatly appreciated their help during the event.
Well, it turned out that I made it almost 5 miles before they caught up to me, walking on fumes. Bonking pretty badly. I was pretty exhausted, and my legs weren't responding very well, but I have been in races where at mile 32 I felt dead to the world like a walking zombie, and then 15+ miles later, I was running well with some zip in my legs.
Shirley took over for the next two miles and churned out a good pace for our group. This gave me time to soak my head in some ice water and recover a little. We made one stop to check on Shirley, and then we drove ahead to wait for her near Redwood Road, where I would take run the next three miles with a slight uphill to the entrance to Camp Williams in the 85-degree heat, which added to the difficulty of the section. When I arrived (mile 41), Jeff took over and ran the next 1.5 miles until we turned east on a country road.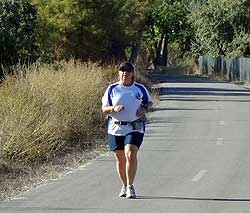 Shirley making her way along the final stretch of the race.
By this point, a couple more teams were passing us, but at least we knew we wouldn't be too far behind them in arriving at the finish line. I ran the next two mile section until the Jordan River Parkway Trail where Micheal took the reigns of the race until Willow Park. We drove our support vehicle around to the park, and Shirley took the final leg of 3+ miles to the finish.
Once Shirley was off, we drove down to the finish line, and I ran back along the course to meet up and run with her to the end. Although we finished hours behind the winners, we still were satisfied that in spite of our lack of total running experience and some vehicle problems, we were able to reach our goal. The race organizer held a short awards ceremony, and everyone received a finisher's medal.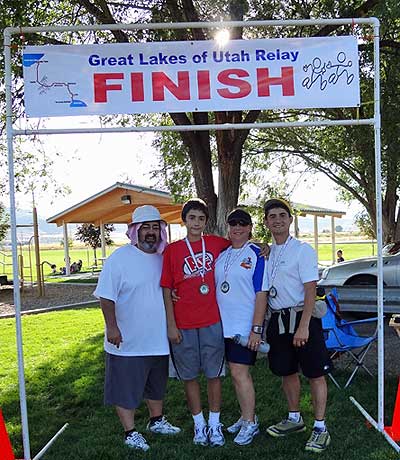 Our team, minus Jorie and Jessica

[ Photo Album of Race ]

This was certainly a fun-filled event for our family, with some great company, nice scenery, a vehicle mishap, and a rewarding finish. Again, thanks to my brother for encouraging us to do it. I would recommend the event to any group of runners who are looking for an inexpensive means of getting involved in a quality, low-key relay course and race.