> Home
> About This Site
Trailhead and Map | Trail Description
Distance and Difficulty | Hiking Time | What to Bring
The trailhead starts at the Delicate Arch parking lot inside Arches National Park at N 38.44.139, W 109.31.230. Visit the Arches National Park Website - http://www.nps.gov/arch/ for more information.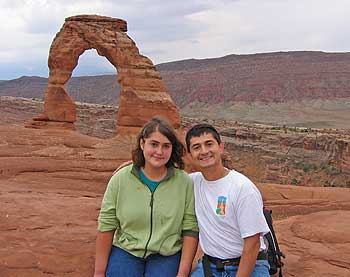 "We finally made it!" -- At Delicate Arch with my daughter

Hiking to Delicate Arch is seen as a classic, must-do hike, if you are planning to visit Utah, and it is one of those awe-inspiring adventures you might do again and again over the years (personally, I have done the hike about seven times).

The Delicate Arch trailhead is located about 11 miles from the entrance to Arches National Park, just north of Moab, Utah. You'll find public bathrooms, but no water, at this point. Keep an eye for the turn-off to the right to reach the parking lot to begin the hike.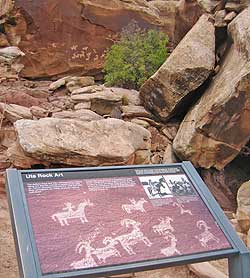 "Did Picasso live here once?" -- Rock art just off the Delicate Arch trail

You will first visit Wolfe Ranch just a short distance from the start of the hike, and there is a sign explaining the lives of these early inhabitants to the park. After a short stop there, you will cross a suspension bridge over Salt Wash and continue your hike past a short spur trail (N 38,44,248, W 109.31.116) leading to some interesting petroglyphs. You can take this jaunt at the beginning or end of your hike.

From that point, you will follow the winding trail until you reach the base of a barren sandstone hill called slickrock (N 38.44.410, W 109.30.726). From this point, the hike can be somewhat strenuous for some, and the trail completely disappears, but a number of cairns (rock piles) will mark the way.

At the top of this hill, you begin an enjoyable hike through sandy washes and rock outcroppings until you walk around a ridge where Delicate Arch comes into view (invisible on the entire hike until that point) (N 38.44.643, W 109.29.984). (As you within 100 feet or round the ridge to see Delicate Arch, you will notice a nice arch high on the wall. If you are agile enough, you might be able to climb the slick rock to get a unique view of Delicate Arch. I suggest you wait until you return trip to save the surprise of Delicate Arch.)
"Ah, do we have to hike this way?" -- Hiking the slickrock toward Delicate Arch
If you are hiking with children, you might want to keep an eye of them because there is the potential of falling off numerous cliffs near the arch. The sandstone bowl next to the arch can become a receptacle for dropped water bottles, cameras, and other items, so hold on to your personal items as you walk around the rim.
It is a moderate, 1.5 mile (2.4 km) hike one way. Keep an eye on your children as you approach the top because there are a number of exposed areas where people could easily fall. For some people, the views from the top can be a little scary.
About 3 hours depending on how much time you spend at the arch. Add a few minutes if you decide to visit Wolfe Ranch and the Ute Rock Art panel.
Good walking shoes, plenty of water, and some snacks.