> Home
> About This Site
Trailhead and Map | Distance and Difficulty
Hiking Time | Trail Description | What to Bring
[ Photo Gallery of Cascade Hike ]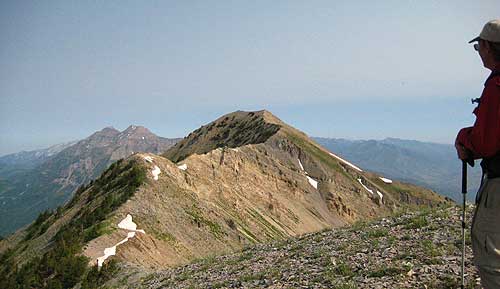 "What a view!" -- Cascade Peak Down the Ridge with Mount Timpanogos in the Distance
See Video - Windows Media Format (2 MB)
For me, hiking Cascade Mountain from the west face rather the longer south or east approach was a mixture of elation and pain---sort of a love and hate relationship: you're glad you bagged this far-frequently summited peak because of its difficulty, but your joints will remind you several days later that she won't leave you unscathed.
The roundtrip distance for this route is a little over 5 miles, but we added an additional mile or so due to orienteering errors. The starting elevation from where we parked the car is about 7,567 feet (measured using my Garmin Forerunner 205) and gains about 3,000 feet to the peak at 10,809 feet. This route is definately strenuous, with a great deal of route finding required. It is a route that you can become disoriented, and thus, having a route plotted out beforehand with a detailed topo map are essential. The route is laden with loose rock and plenty of scree making it hard on the knees and ankles. The drop and then rise in elevation between 6-9 hours on this graph indicates a point where we dropped down the wrong ridge and had to return back up a 1,000 feet to get back on the right route.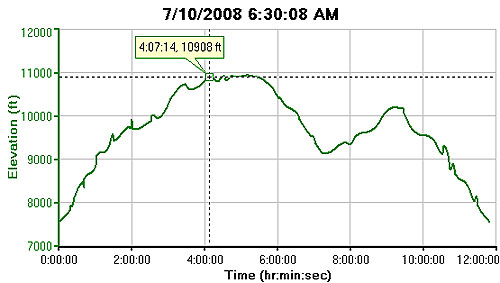 On this particular adventure, it took us 4:15 hours to get to the top (slowed somewhat by some route finding), and 7 hours to get down due to taking the wrong ridge on the descent. However, under normal conditions, you can estimate that it will take you longer to get down due to the large amount of loose rock you have negotiate on the descent. Therefore, the hike could take anywhere between 6-12 hours all together.
Date: July 10, 2008
[ Overview Map of Hike ]
After having climbed other nearby peaks including Lone Peak, Timpanogos, and Box Elder Peak, I had been contemplating climbing this peak for some time, particularly because of the difficulty and remoteness of the route. I've been trying to summit some of the higher peaks in northern Utah county, and when my friend Duncan suggested the idea, I just couldn't pass up the opportunity. You don't find just anyone who wants to try such a challenging hike for the fun of it. And since Duncan had made the hike twice before, I knew he'd be the person to give me a guided tour of the mountain.
We met at 6:00 a.m. and then took the Squaw Peak Road a couple of miles up Provo Canyon. We followed the road for 4.3 miles until a T-intersection, took a left onto a well-groomed dirt road heading to Rock Canyon Campground, and followed the road until N 40.17.497, W 111.36.270, where we pulled back on the short spur road and parked. After adjusting our packs, we bushwhacked about .28 miles at a bearing of 82 degrees to the right gully entrance at N 40.17.527, W 111.35.953 to begin our ascent, as seen here.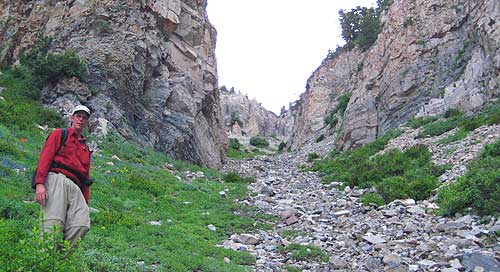 "Hmmm. An ankle-twisting route for sure." -- Making the initial trek up the talus field.
I'm not a fan of this kind of scree field because of the potential of slipping and twisting an ankle or knee on the way up (heading down is much worse), but we decided to try this approach because it is much shorter. We headed up this gully for about a half mile, looking for a gentle ramp along a band of rock off to the right (which we later discovered at .47 miles). Duncan kept his eyes out for a large rock as a signpost for where we were to follow, but he didn't see one where he thought it would be (he later realized this rock must have been carried down by an earlier avalanche). Finally, we could see that this gully narrowed and split into a Y-shaped configuration, and not know exactly where to go, we followed the steep and very slippery left fork for about another .2 miles until it was almost impassible as seen below.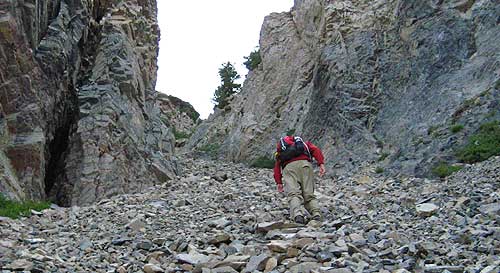 At this point, we scrambled up a somewhat technical section which led out of the gully (see Duncan making the scramble HERE). Although it was possible to exit at this point, I wouldn't recommend it, especially in trying to descend by this route unless you have rapelling gear to do so. From this point, we traversed across to the south until the next ridge and then worked our way up to the saddle at N 40.17.787, W 111.35.140. It took us three hours to reach this point, but we were still wondering where we missed the ramp and hoped that we could find it on the way back.
From the top of the saddle, we slowly worked our way northward over to the mountain's south peak where we discovered a curious, man-made formation of rocks on the ground almost in the shape of a coffin (HERE). The views off the east side of the mountain were spectacular, with a view of Deer Creek to the northeast and a lot of greenery to the direct east. Just on the east side of the ridge lies a huge bowl, and it appears that it could even be possible to approach the ridge from that side---a very steep climb but perhaps possible in some spots. -- possible to descend with some rapelling gear to help you ease off the ridge and down the slope.
The rest of the hike north to the actual peak at N 40.18.417, W 111.35.299 (1 mile from where we first reached the ridge) was fairly straightforward and easy, and after locating a geocache near the summit, I took a few more pictures (HERE), and we sat down to have lunch for about 30 minutes. We were hoping to see the famed mountain goats on this trip, but they weren't to be seen. Instead, we saw plenty of goat sign and fir hanging from the brush. The return was to follow our same course, but Duncan then realized he had the ascent/descent route saved on his GPS, something he thought wasn't there in the first place (We were basically following his memory of his previous climbs, but he readily admits he, unfortunately, couldn't remember the exact route.)
Duncan decided to try following the route track on his GPS (Basically, I had a Garmin Forerunner mainly designed for runners/bikers, and I wasn't consistantly plotting the route because I was counting on Duncan to lead us.). We were about to learn a costly, but reinforcing, lesson in orienteering. We left the ridge at a point well north of where we earlier reached the ridge, but Duncan seem to feel confident that we could find our way. As we descended what we thought was the correct ridge back to the allusive ramp, the GPS and the previous track he had loaded on his unit seemed to indicate that we were well north of where we needed to be. Unfortunately, instead of heeding the GPS and taking the time to visually scanned the landscape for familiar signs, we continued our descent until we reached a primitive campsite at N 40.17.870, W 111.35.425. Duncan seemed to recognize it, so we continued our descent until we reached a point that was impassible on all sides (HERE) except for a dicey descent to our right (or north).
At this point, we decided to call a friend who had climbed with Duncan the last time, tried to figure out where we were, and after a series of calls (and giving him our coordinates), we were told that we were on the wrong ridge, and the actual ridge where we should have been was to the south.
Before realizing this, we had thought very briefly about descending out the gully to our north, but that would have been a big mistake because it would have led us to impassable cliffs. Fortunately, we agreed that before wasting our energy in finding a route, we had to get some form of confirmation from our friend, and after surveying the landscape, we realized that we had to climb up about a 1,000 feet, cross the mountain horizontally for about .3 of a mile to the south, and then route find down to the campsite at N 40.17.765, W 111.35.413---the one he was actually thinking about earlier (in other words, there appear to be at least two, similar-looking campsites at the same elevation on two different ridges, something we predicted as we corrected our course). In the end, the previous route he had on his GPS was right on, and we should have trusted it earlier.
Reflecting back on this adventure, we both were glad we were in good physical condition, had sufficient water and food for a longer hike than expected, and knew that we had someone in cell phone range to keep track of our progress in case we had a problem. One thing reinforced in my mind is the importance of properly plotting out the route before you start the hike, having at least two GPS units tracking the course, and bringing a detailed topo map of the area for additional reference. Unfortunately, we tend to get used to following a well-groomed trail and forget how important it is to understand and read the terrain around you. I also was too dependent on Duncan knowing the way; each person should know the route particularly if one member of the group becomes incapacitated for whatever reason, and you are on your own to find your way.
Once we reached the second primitive campsite at N 40.17.765, W 111.35.413, everything started to seem make sense to Duncan. Facing the campsite and looking to the west, you turn right and carefully downclimb a steep slope for about 100 feet. Once you reach the bottom of this technical section, you walk down a small rocky gully another 150 feet or so until you reach, to your right, the ramp we had missed earlier in the day at N 40.17.743, W 111.35.503.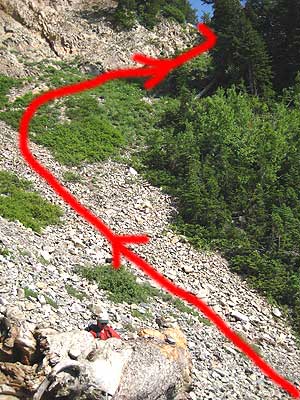 "Ah, so that's where we should have ascended" -- Duncan next to a big log on our way down the mountain. Don't expect the log to be your signpost on your hike; it can be easily carried down the mountain during the next avalanche
We were very relieved to have reached this point, and after a short breather and adjusting the shoes, we still had a half mile to descend to the mouth of the gully. For me, this part was the least enjoyable because, having been recovering from a recent twisted ankle, the going was very slow over the scree, feeling like you were going to go sliding at every step. Definately much slower coming down, and having trekking poles can make the hike much, much easier. Duncan and I took a couple of minor spills, and at one point, I slipped on on an ice patch and bruised my hand. We finally reached the bottom of the gully, and Duncan saw the big rock he had be looking for as a signpost on where to find the ramp. It must have rolled down the mountain a little ways.
Although the major portion of the hike was finished, it was still a real bushwhack to get back to the car . . . I need to figure out a better way next time. Good luck. In the end, what I had anticipated as an 6-9 hour hike turned into a 12-hour marathon.
Summary: This hike was a great experience in being prepared for the unexpected. The hike up was relatively easy, except for one point in getting out of the gully on our initial ascent, and although we anticipated that the trail down wouldn't be real easy because of the loose terrain, we never envisioned that we would become somewhat disoriented on our trip down the mountain. This isn't a mountain where all ravines lead to the bottom (well, lead to the bottom EASILY). Immediately after returning back to the car, I decided to pack this hike away as a once-in-a-life-time experience, but I think I'd like to try to mountain again (someday), perhaps from a different route from the east or south, or perhaps ascend the same way but descend to the east.


Bring someone who has done the hike if possible and has all of the coordinates for the route. This will save you a lot of time finding your way. A detailed topo map of the area, plenty of supplies for the trip, and a cell phone can help. I say cell phone because while cell phone reception is often limited in some areas of the backcountry, we had no problem getting reception on this mountain.