> Home
> About This Site
Trailhead and Map | Trail Description
Distance and Difficulty | Hiking Time | What to Bring
Trailhead begins at N 40.26.626, W 111.42.427 on the north side of State Road 92 up American Fork Canyon. Swinging Bridge Creek, USGS Timpanogos Cave (UT) Topo Map. Click HERE to view the approximate starting coordinates and map.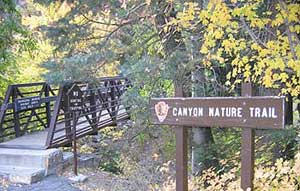 "Across the bridge we go!" -- Canyon Nature Trailhead

If you're looking for an easy, pleasant hike up American Fork Canyon with a nice picnic and campfire area, then this might be the trail for you. The description here will take you from the start of the trail to the picnic area, but you can always start at the picnic area and walk the other way.

The trail first crosses American Fork River, always full with a good flow of water year round. After a short rise in the trail, you will descend gently to the west, passing markers pointing out things of interest along the way---this supposedly being an interpretive nature trail. Unfortunately, all the brochures were gone, and I'm not sure how often the forest service restocks the small box near the beginning of the trail. This area is particularly beautiful as they leaves change colors in the fall.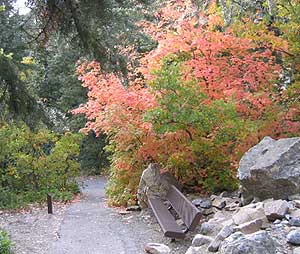 "Enjoy the leaves as you go!" -- Canyon Nature Trail

Once you reach the end of the .2 mile trail, you will enter into the Swinging Bridge Picnic area at N 40.26.590, W 111.42.632. The area has a number of picnic tables, fire pits, and a public restroom. Everything is on a first-come, first-serve basis, but as you build your fire and get lunch ready, rest of your group can explore the area. One word of caution: the river flow can easily sweep away anyone who falls in, so be careful, particularly during the spring runoff.

The hike is easy for all ages.

Less than 30 minutes from the beginning of the trailhead to the picnic area, depending on how much time you spend on the trail.

Nothing in particular, except for a lunch in case you decide to stop and eat.