Summary | Area Map | Distance and Difficulty
Cut-Off Times | Race Description

[ Photo Gallery ]

This trail race takes runners on two loops around Antelope Island on the Great Salt Lake with incredible vistas and plenty of opportunities to see abundant wildlife.

The official Web site for the race (Antelope Island 100K Trail Race) describes the event in detail and directions on how to get to the area. (The starting point is shown below.)

This two-loop course of approximately 31 miles each makes it a very reasonable race to complete in the 16-hour time limit. For anyone who has read my running reports, I am neither a player nor a pretender when it comes to being competitive. I'm using running at the very back of the pack and am satisfied with just completing such an event.

A total sixteen hours, but you have to complete the first loop in under 7:30 hours.
Antelope Island, located just north of Salt Lake City, is the largest of seven major island on the Great Salt Lake, itself the largest lake west of the Mississippi. The island if well known for its geographic features, abundance of wildlife including bison and antelope, and fun hiking and biking trails across the island. One of the things I have enjoyed over the years is taking a dip . . . and floating like you have never experience before . . . in the lake. It's really a unique feeling.
Having had interest in participating in one of the spring races on the island, but always with work conflicts that time of year, my interest piqued when I found out about the 100K being held in November which comes at the end of most of the races for the season. The length of the race and the rare opportunity to see part of the island where most visitors don't experience were two things that sold me on the idea. Furthermore, the opportunity to join the race in its first year without hordes of runners was also a real plus, seeing that the race director decided to limit the number of participants to no more than 75 to see how the wildlife would react to runners on the west side of the island. (As it turned out, only 44 signed up, and only 41 started.)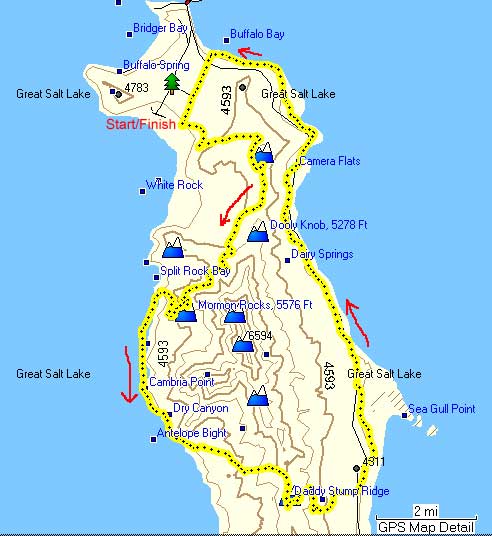 Course Map for the Antelope Island 100K
I didn't sign up until two days before because of possible scheduling conflicts, but everything worked out fine. I had just participated in a trail marathon two weeks before (A Hurricane Jem Trail Marathon) that served as a practice run, but I wasn't sure how things would turn out. I had also ran in another 100K in the summer, but I had to pull out at about mile 23 due to injury, but this was certainly going to be an easier race. My personal goal was to finish and finish injury free.
My wife, son, and I arrived on the island about an hour early, and after finding the starting area, waited until a few minutes before 6:00 a.m. before gathering with the rest of the 41 runners for final instructions. As usual, I got some pictures and video of the runners as they took off after a brief countdown. I bid my wife goodbye, and she returned back to the car to rest before exploring the island herself.
For the first two miles, the trail climbed about 500 feet, and I followed as usual near the back of the pack. I both ran and powerhiked this first section and once it leveled off at 2.2 miles, I ran the next two miles until mile 4.3. The trail then climbs until it reaches the first aid station at about mile 5.5. It was still dark, and I stopped for a couple of snacks and then was off. The next two miles run along an undulating trail until you start dropping down the back side of the island about mile 7.1, then along a series of switchbacks at mile 9.1. By the time I arrived at that point at 7:45 a.m. at Split Rock Bay, a headlamp was no longer needed. I stopped briefly and then followed race markers down to the beach.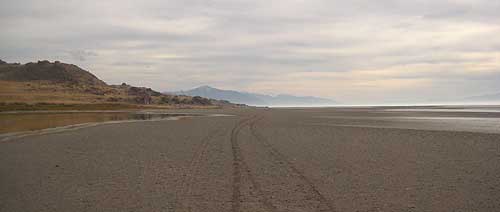 Picture taken looking north during my second loop on the beach
For the next 2.5 miles, runners followed trail markers along the beach, and for those familiar with the Great Salt Lake, they know that you are actually talking about damp, often salt-encrusted, sand that you would need to follow out at least a quarter of a mile to reach the water, which only has an average depth of 14 feet. (It's a unique and strange experience to float in its waters, but no time for that on this trip.) The beach was very runnable, with a few mushy sections, and then the course veers onto land near Dry Canyon and climbs along a jeep trail for three miles until the next aid station at mile 15.1 (Sentry Aid Station). The last mile of this climb is not difficult, but it left me a little winded; however, the cheers of the volunteers from this aid station were very much welcomed. I had some oranges and drink, had my bottle filled, and then departed. I didn't get very far when I turned back remembering that I wanted to leave my headlamp and longsleeve shirt here to pick up on the second loop.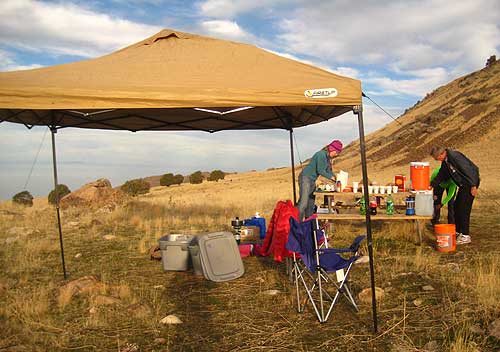 Sentry aid station with enthusiastic volunteers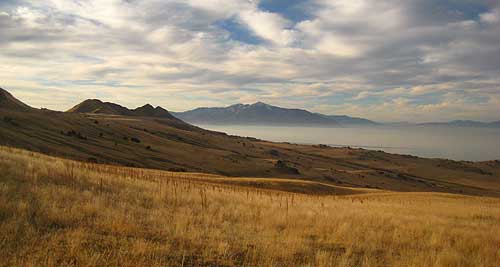 A scenic view from the west side of the island looking southwest
The next few miles were all downhill and a joy to run. Nothing technical, but it was a nice respite from the climbing. At mile 19, you approach the Fielding Garr Ranch located at Garr Springs, one of the largest and most consistent springs on the island. Before the first modern-day settlers made this place home in 1848, evidence suggests that other indigenous people had made this area home starting from at least 1,000 years ago. It was pleasantly surprised to hear my wife's voice cheering me on, and after a brief stop to say hello, I continued on for the next thirteen miles, through two other aid stations, back to the starting line finishing my first loop in 6:20. I spent about 11 minutes in the aid station eating some clam chowder I had brought with me along with some crackers. I was feeling pretty good at this point, and then headed out for the second loop.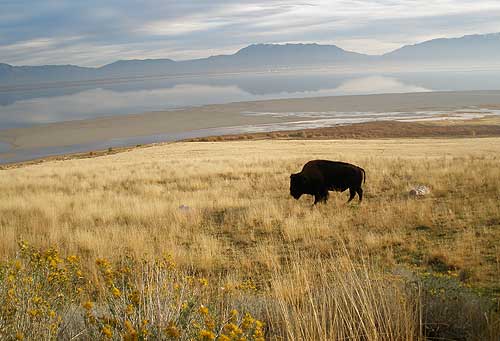 A picture of a bison taken by my wife during the race on the east side of the island

Then . . . I struggled for a time. For the next three miles, I felt like I had lead in my boots. The food I had taken in hadn't energized me, and although I tried to run a little, it seemed for a while that the next twenty-some miles would take an eternity. However, like all things in life, my energy came back at about mile 36, and for the next five miles until the Death Valley Aid Station at about mile 40, I was moving well. By this time of day, there were a number of horses and a huge group of mountain bikers on the trail, but everyone was very courteous, so that wasn't a problem at all.

I made it back to the Sentry Aid Station at Mile 46 and paused to have some hot broth and noodles, which really hit the spot. In some ways, I was feeling better than I did the first time around at mile 15---no injuries and no pain whatsoever. I'm always amazed that these and the many other volunteers where so friendly and eager to help you reenergized and get on your way. I picked up my headlamp and shirt I had left here hours earlier and headed off down the trail toward Garr Ranch, arriving there in 11 hours, 46 minutes. Around this same time, I walk for a few minutes with another runner, Pablo Riboldi, and then he continued on ahead. Once I had hit the 50-mile mark, I was feeling fine physically, but I was tired, considering whether to powerwalk the rest of the way or try some more running. After passing through the last two aid stations, now in complete darkness, three other runners passed me in the dark. I gave some indication to my wife when I might finish, and in order to reach that time, I knew I had to pick up the pace, so I "drafted" off the other runners for about three miles, mixing running and walking. I was surprised that I was still feeling fine at this point in the race. The final mile I ran alone and crossed the finish line in 15:20 (9:20 p.m.)

The first running of the Antelope 100K should by all accounts be considered a great success for many who participated. The weather was fantastic (seeing that it has been colder with some light snow in the week following the race), the crowd was friendly as always, and there is always something unique about running a new race of a part of an island that few people ever see. I also very much liked the big official race mug---something simply more useful than a finisher's medal. Great for soup and drink.

It would be interesting to see in the future if this loop course could be turned in a 100-mile race that would take you across different parts of the island.

[ Photo Gallery ]